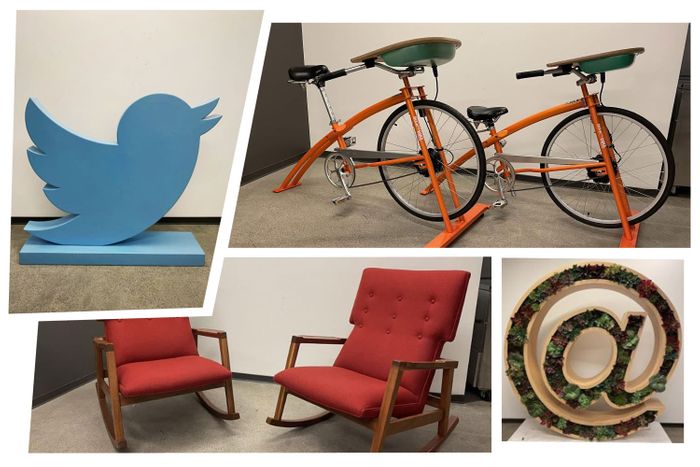 Photo-Illustration: Curbed. Photos: HGP
Has it been only a month? When Elon Musk purchased Twitter in November, he began his tenure as CEO by cutting the staff in droves, submitting those who remained to coding and loyalty tests, inviting around 12,000 banned accounts back on the platform, and releasing the "Twitter Files," which came off as a five-act play of performative transparency. The Twitter headquarters in San Francisco has also seen some pandemonium as of late. The building's owner, Shorenstein Realty Services, is struggling to refinance its $400 million loan on the 11-story structure in part because of Musk. Outside, members of the janitorial staff whom Musk fired have been picketing in protest. Then it emerged that the billionaire was converting several rooms on each floor into makeshift (and possibly illegal) bedrooms (i.e., his idea of an "extremely hardcore" culture). Now the Art Deco building on Market Street seems to be returning to its roots. Sort of.
Before it was called Market Square, the building was known as the Western Furniture Exchange and Merchandise Mart. It opened in 1937 as a place to showcase Depression-era furniture, and it continued as a wholesale furniture hub until 2008, when it began to be converted into office space. Now it looks as if furniture will be moving rapidly out of its doors again as asset advisory firm Heritage Global Partners listed hundreds of "surplus corporate assets of Twitter" in an auction scheduled for mid-January. Soon anyone with enough funds can walk away with a wooden "@"-shaped planter, a commercial food dehydrator, some of Omar De Biaggio's Bacco chairs, a bunch of Knoll desks, and at least a dozen workstations still in boxes. The fire sale comes after Musk nixed free employee meals in November (which he claimed cost the company roughly $400 per worker since so few had returned to the office), which meant the departure of Bon Appétit Management Company, the outfit that helmed Twitter's well-known kitchen and cafeterias. It's all part of the company's scorched-earth cost-cutting measures now in progress.
The sale gives a glimpse of the great free-meal perk at the headquarters before Musk took over. Having visited the building a few times, I can attest that the food and the vibes inside the cafeteria were highlights (second only to the rooftop garden, a succulent-studded terrace where Tom Hanks once played cornhole). There are so many industrial kitchen appliances for sale, including a few 40-quart mixers, La Marzocco espresso machines, 20-gallon vegetable dryers, rotisseries, pizza ovens, and Vulcan ranges. Also going is the Kegerator beer dispenser.
There are a few curiosities that might appeal to another startup — such as two orange stationary cycles that double as charging stations, starting at $25. But there isn't much in the way of status furniture except for a handful of Jens Risom pieces (a pair of orange rockers, anyone?), a Blu Dot armchair, and five Eames molded-wood lounge chairs. They're valued at $1,975 apiece; bidding starts at $50.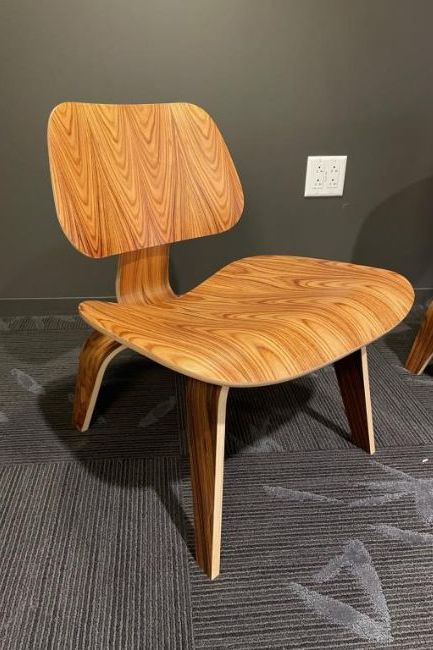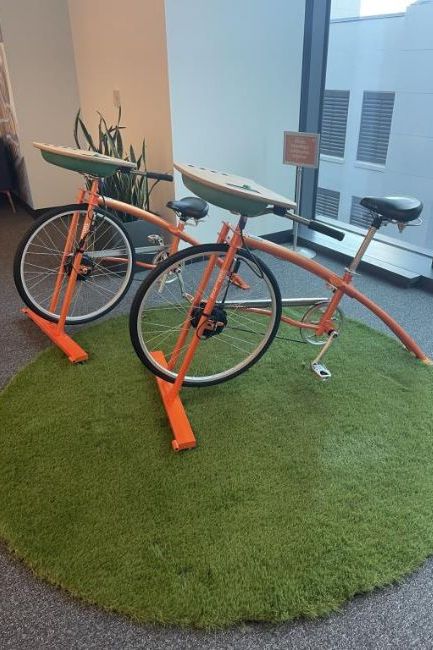 Finally, there are only two items that have any link to the company itself: a four-foot-tall blue Twitter bird sculpture (starting bid: $25) and a 6.5-foot-tall wooden "@" sculpture filled with artificial plants, which served as a good selfie prop for visitors and employees alike.
Who would buy these symbols now? It might be too early to say what will happen to Twitter, but some people are optimistic. "Stuff that might even have a higher value than an Eames chair would be items demonstrably from Twitter," says Wired innovation editor Jeremy White. "It might be worth something in the future." However, according to Adam Stackhouse, a science and technology specialist at Bonhams auction house in San Francisco, "With tech collectors, usually the highest prices are achieved when there is a personality that people feel a connection to, like Steve Jobs, or if there's a nostalgia factor, like vintage video games." He added, ""Another factor for both of these pieces is the size. They'll require not only an initial financial outlay, but also a huge commitment in space. That may not be a factor in this initial sale but will almost certainly be a factor were these to be resold."
As for whether this auction means Musk is considering a permanent move outside San Francisco, that's not clear. He may be a staunch "work from the office or else" guy who has no qualms about firing people who won't come in, but he also has no problem moving companies out of a state he apparently disdains, as he did when he moved Tesla to Austin. Should Musk decide to move Twitter out of San Francisco, he would join a slew of other tech companies who have broken up with the Bay Area city over the past couple of years. If he does, it looks as if he'll have far less stuff to schlep after this liquidation sale.
Updated December 13, 11:00 p.m.: After publication, it was reported by the New York Times that Twitter has failed to pay rent for the San Francisco headquarters and its global offices for weeks now, and may be intending to renegotiate the lease with Shorenstein, the owner of Market Square.

link