A rare chair dating back to the 1930s purchased with $50 has been sold for 1,700 times its purchase price at a Sotheby's auction.
Justin Miller is a 33-year-old home-design content creator based in Los Angeles. He first spotted the chair on Facebook Marketplace, the social-media network's online platform for selling and buying new or used items. He bought the item, designed by Danish designer Frits Henningsen, for $50 from a seller in Beverly Hills, California.
Miller told Newsweek: "I make home content for TV and social media, so I spend a lot of time on Facebook Marketplace finding items for projects I am working on. Whenever I find something that looks unique and well made, I will look up online to learn more about it.
"When I first saw the chair, I loved the color of leather, and I thought it had a really interesting shape, so I wanted to learn more about it," Miller said.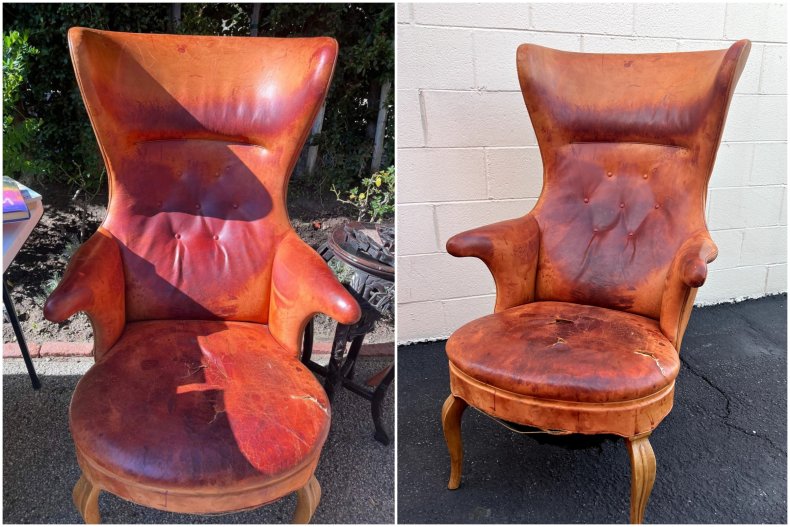 The final "hammer price" for the chair was $85,000, according to a viral TikTok video shared by Miller. It showed a livestream of the "rare high-back wing chair" being auctioned by Sotheby's on June 7.
Miller said: "Most of Sotheby's fees are on the buyer's end, so the 'hammer price' for the chair was $85,000. But the seller had an additional $22,000 of fees [to pay], so it came out to just under $108,000 total sale price."
The content creator said he knew it could be "possible" that the chair could be worth a lot of money, but he "definitely didn't expect" it would sell for the price it did. "Obviously I'd be grateful for whatever it sold for, but I had told myself that if it went for at least $40,000, I would be overjoyed," Miller added.
The chair is a "rare and important example" of the work of Henningsen, according to the Sotheby's website. The Dane was known for his "exceptional craftsmanship and innovative approach to creating beautiful furniture."
The chair's "high back, integrated 'wings' and curved, ergonomic shape support the body comfortably while providing a sense of privacy and enclosure." Sotheby's describes "the curved lines combine with the historic wingback form to create a visually novel yet elegant design."
The auctioned chair is believed to be one of only around 50 that had ever been produced, according to Sotheby's.
Miller said: "I think he [Henningsen] made these chairs throughout the course of his career, but only made about 50 of them. So I don't know the exact year it was made, but it was designed in 1935."
Miller was prompted to sell this rare chair because "I am not at a place in my life with my one-bedroom apartment where I need a $100,000 chair, even if it is for an investment piece."
He added that he knew he could "benefit more from money than I could from having this chair sitting in storage" and that someone else could enjoy the "amazing chair."
There were some tears in the leather, Miller said, so the Sotheby's team commissioned someone to stabilize these before the auction.
"But the future owner will probably take it to a conservator and have it fixed properly and seamlessly. It's insane what these leather restorers can do," Miller added.
Miller said he typically buys items only for use in his own home or a friend's home. "But I have found some amazing pieces on Facebook Marketplace. Definitely a few that could be sold for a few thousand each, but nothing quite like this."
The chair was purchased via a woman who was just helping some family friends in Beverly Hills "get rid of" several of their furniture items. This is according to another viral TikTok video post shared by Miller before the Sotheby's auction.
The clip says Miller saw this chair listed and thought it "looked interesting," so he did some research.
Showing a screengrab of a chair of the same make listed for $9,634 on the 1StDibs website, Miller said in the video: "I saw that it could be worth a lot of money, but since I'm not a furniture expert, I had no idea." He thought "$50 was worth the gamble" and got in touch with the woman who listed the chair.
Miller was told that the chair was "worth a lot of money" several times by the woman and her boyfriend when he went to see the chair in person, according to the video.
Several users on TikTok were amazed by the latest sale of the vintage chair, with Grace writing: "Omg [oh my god] this is insane congrats!!!"
Daniel S posted: "trading a chair for a down payment on a house. not bad."
And Katie Lafaw commented: "More than I make in a year, congrats."
Do you have a similar story to share? Let us know at [email protected] and your story could be featured in Newsweek.
link