Interested in buying a human skeleton (gently used)? Maybe a 19th century bone saw? An apothecary chest of drawers? You can indeed collect them all. Whether you're in the market to buy or sell antique ― or just plain unique ― medical instruments, furniture, and curiosities are hot items in the collector's auction market.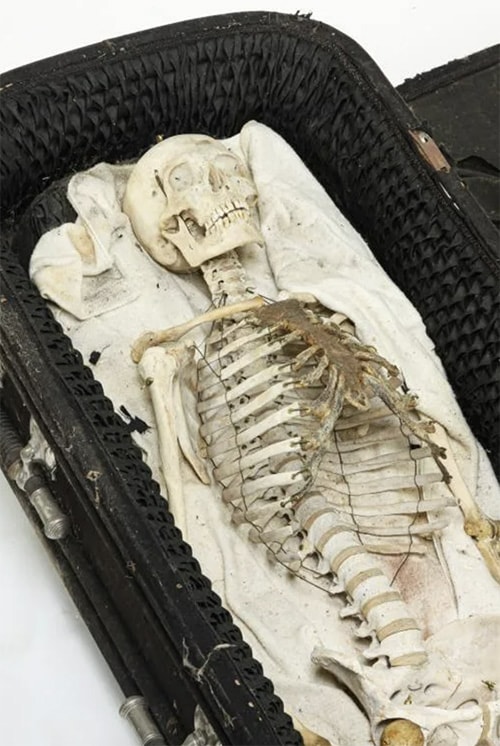 Human skeleton in coffin (auction price, $3250).
COVID-19 brought in-person auction house business to a halt, but a funny thing happened: The fall 2020 season kicked off the greatest resurgence in auction participation since the early 2000s, with auction giant Sotheby's reporting more than 63% of lots selling for more than their high estimates in 2021, a trend that shows no signs of slowing.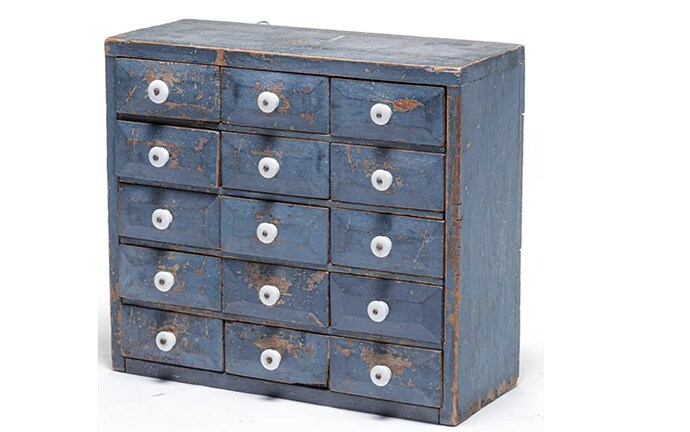 American tabletop apothecary (auction price, $3000).
One of the hottest categories: scientific instruments. Surgical tools, antique doctors' bags, human skeletons, and medical furnishings are fetching the highest prices auctioneers have seen in a decade, says Jonathan Dowling, department director of clocks, watches, and scientific instruments at Skinner, Inc, an auction house in Boston, Massachusetts, notable for its annual scientific instrument sales.
In their fall 2020 sale, the auction house sold an 1860s urologic traveling set for $4375, and an 18th century trepanning set, encased in sharkskin and velvet, fetched more than $6800 — auction (aka, "hammer") prices that exceeded prepandemic figures.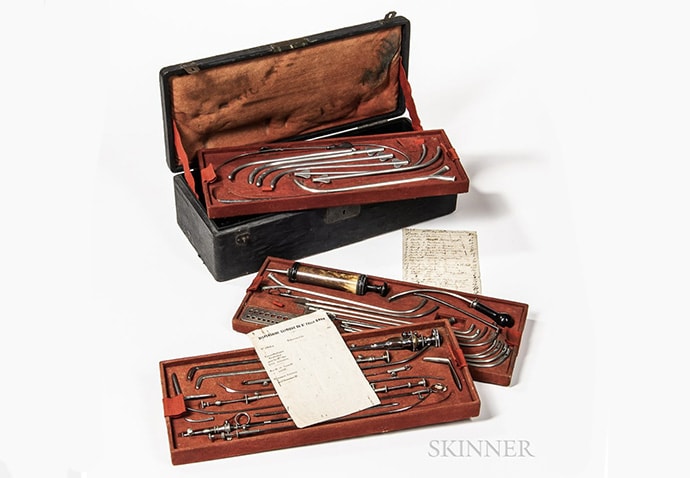 French urologic travel set (auction price, $4375).
"It's rarity that drives the price," says Dowling of the technically beautiful items for which his discerning clientele eagerly pay. He notes that the internet has simplified collecting while creating a well-informed public, raising the stakes for auctioneers as they scour collections looking for lots sure to garner interest.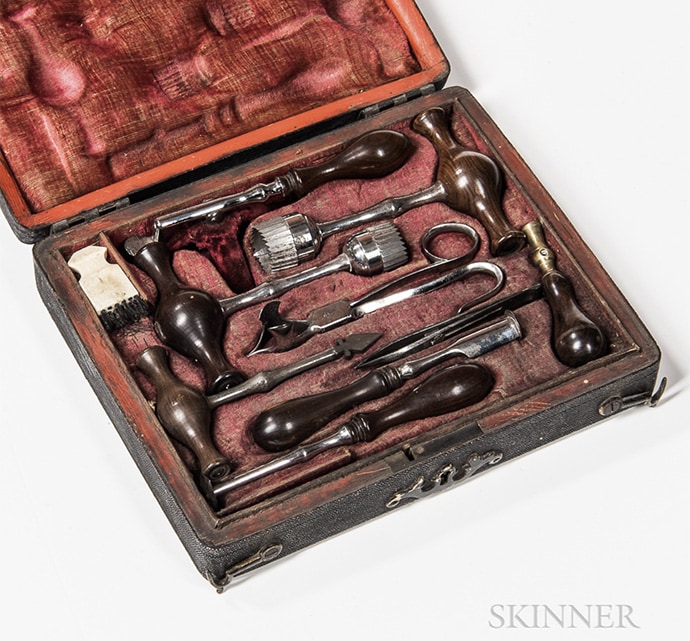 18th century trepanning set (auction price, $6875).
"I believe 30 or 40 years ago, as a general statement, it was more quantity over quality, but in today's market, it is quality over quantity," Dowling says. "With the internet at our fingertips, collectors are more informed."
Tools for the General Public
Physicians make up a good portion of the market for these items. However, Richard "Jeff" Jeffers, CEO of Garth's Auctioneers and Appraisers in Columbus, Ohio, says medical instruments and paraphernalia draw the attention of more than doctors because of their versatile design.
"Many of the objects in the [scientific instrument] category come to us labeled as utilitarian pieces of furniture — feeders made of blown glass and porcelain, or shop signs that fall into the folk-art category," Jeffers says. "People have these items in their collection, and they don't know or distinguish that it's a medical-type item. That's what makes collecting so interesting. An object might have four or five interested buyers for all very different reasons."
One very specific reason? Many of these older items are beautiful to behold (they really don't make 'em like they used to). Amputation saws, painted porcelain invalid feeders, and fleams are popular items in his sales for their exacting designs and beautiful ornamentation — signs of a different time in medicine.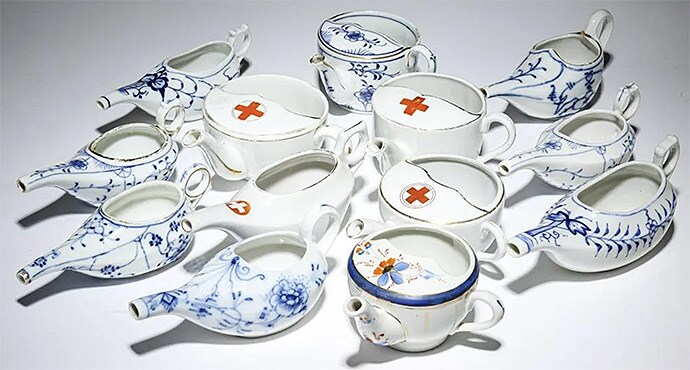 European invalid feeders (auction price, $170).
"This is a very tactile business, and the principle or attribute that drives value beyond all others is form. Collecting medical items is highly similar to collecting watches and firearms. There is precision in the make, execution, and design," says Jeffers. "It's a very visually pleasing category. But, since our tools do not need ornamentation today, you will sadly never see it."
(A market exists for even more, ahem, unexpected medical memorabilia, such as used casts and preserved body parts. Medical ethicist Arthur Caplan, PhD, recently examined this niche market.)
Also coveted for their beauty are traditional apothecary cabinets and vintage metal case pieces. One set of metal cabinets recently started a bidding war at Wooten & Wooten, in Camden, South Carolina. The pieces, sold by a retired surgeon, drew attention for their "steampunk feel," says owner Jeremy Wooten. "If you can get medical professionals and collectors bidding against each other, you've got a good thing going because these young collectors are not scared to spend money."
More than form and rarity, David Johnson, president of Greenwich Auction and Antique Treasures, believes collectors flock to auction houses craving nostalgia, items that remind them of their childhoods, and tactile objects in an increasingly digital age.
This also includes the unusual. One avant-garde ophthalmologist offered an impressive collection of glass eyes refashioned into shocking cocktail rings of his own design. "Strange always sells in our business," Johnson says.
The Collection Life Cycle
The nature of collecting ― particularly physicians collecting medical instruments ― suggests to auction managers that this sector's popularity should continue. Such extensive collections are built slowly as physicians track down curious objects over years. But, for all their care, there are time limits on their hobby. "There's a 20- to 30-year horizon on collections before they change hands because of retirement or downsizing," says Johnson, adding, "It's the circle of life."
This life cycle of redistribution upon retirement makes auctioneers confident the upcoming decade will be even stronger for the scientific instruments category. According to a 2020 report by the Association of American Medical Colleges, 45% of physicians are older than 55 across all specialties, and 2 out of 5 doctors who are currently practicing will reach the age of 65 in the next 10 years. The Mayo Clinic reported similar findings, stating that 1 in 5 healthcare providers intended to leave their practice within the next 2 years. A third study found that 22% of physicians were contemplating early retirement because of chronic stress, overwork, and burnout caused by the COVID-19 pandemic.
"There's a big demographic of doctors about to retire, so we anticipate a lot of inventory hitting the market," Johnson says.
Wooten agrees. "The pipeline is looking strong, and it should be a lot of fun to watch."
Margaret Daniel is a South Carolina–based writer and interior designer. Her work has been featured on Medscape and in Savannah magazine.
For more news, follow Medscape on Facebook, Twitter, Instagram, and YouTube.

link