Barrie Rose is surrounded by "stuff" all day, but he says it's the people he will miss the most when the doors to his store close for the final time on Nov. 30.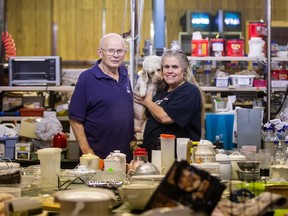 Article content
Barrie Rose is surrounded by "stuff" all day, but he says it's the people he will miss the most when the doors to his store in Saskatoon close for the final time on Nov. 30.
Article content
"We've had a lot of good people. A lot of the Hutterites will come in and now that we're shutting it down, they say, 'Well, what are we going to do?' "
Rose's Furniture and Auction on Avenue B South in Riversdale is closing down after 85 years in business.
Article content
"My son passed away a year and a half ago. Gail and I had talked about it before, about shutting it down, and anyway it got to where Gail and I were the only ones left and we just figured it was time to get out. So that's what we're doing," Barrie said.
His father, Virgil Rose, began the business as an auctioneer in 1936 on Avenue B South. It later moved to the Connaught Building on Third Avenue South, where it stayed until after the Second World War was over, Barrie says.
By 1950, construction was underway on a storefront on Avenue B South again.
Article content
"The only thing we have left of that place is the door you came in," Barrie notes.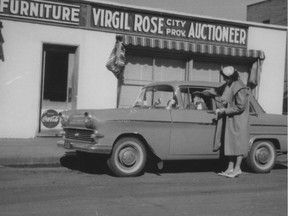 He and his son built the back auction hall in the 1980s and rebuilt the storefront shortly after that.
Barrie and his daughter, Gail Rose, have been running the business as a consignment store since they shut the auction down.
"Ten or 15 years ago we quit the auction. I think a lot of it was this online stuff started to come in. And people would come down and visit and have coffee and talk to their friends. And it was getting that they were doing more talking than buying," Barrie says. "And so we decided to shut the auction off and we went into consignment."
Gail grew up in and around the store and auction.
"It was fun. As kids we got to run around here and play, and I didn't work at the auction because back in the day, that was a guy thing," she recalls.
Article content
"So I got to start the candy counter. So I worked there for a long time and made my way into the front of the store."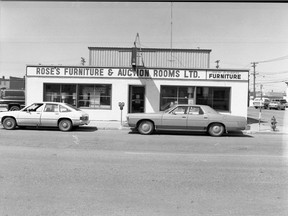 These days, Gail's dog Max is also working in the store.
"He comes to work every day. He always goes down and greets the people," she says.
People come in with all kinds of things to try to sell, but perhaps the strangest items are teeth.
"What are we gonna do with these teeth? We took the teeth because they had gold in them and we took them over to Rings N Things and they bought them for the gold," Gail says.
If there's one thing he's learned over the years, it's that there's a buyer for everything, Barrie adds.
"There's very few things that somebody doesn't want. It seems like you can sell just about anything."
Barrie and Gail say their selling days are nearly over. They're looking to clear out their consignment stock and sell the building.
Article content
"Time's up. When the time's up, you get out. Maybe somebody else will come in, I don't know," Barrie says.
New Faces, New Places: 4th Quarter Vintage brings back rare clothing from the '80s and '90s

New Faces, New Places: Style and Graze pairs mouth watering flavours in luxury food boxes
The news seems to be flying at us faster all the time. From COVID-19 updates to politics and crime and everything in between, it can be hard to keep up. With that in mind, the Saskatoon StarPhoenix has created an Afternoon Headlines newsletter that can be delivered daily to your inbox to help make sure you are up to date with the most vital news of the day. Click here to subscribe.
link